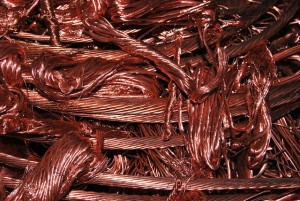 Copper recycling in Houston can be a profitable and efficient task for electricians. Do you have insulated wire that is taking up your work area? At Gulf Coast Scrap Metal we make the process of copper recycling simple for you. The process of recycling at Gulf Coast includes the following steps:
Call us at (713) 868-4111 or visit us at 8770 Hempstead Road Houston, TX 77008
We can collect your copper scrap by picking it up at your location or you can drop it off in our drive-thru
Onsite evaluation of your scrap
Wire stripping free of charge
Prompt pay with top prices offered for your scrap
Making Copper recycling easy for you
We are committed to making copper recycling a hassle-free process for you. We can handle large jobs and provide you with containers, dump hoppers, roll off trucks, cranes, and flat beds free of charge. Our crew members will help with dismantling when needed.
Types of copper scrap we buy
We buy a variety of copper scrap which includes:
Copper Insulated wire
Copper Piping
Copper Transformers
Copper Alternators
Miscellaneous Copper Scrap
If you are an electrician and want to get rid of your scrap metal, we are ready to help you. Since 1990 we have built a reputation of quality customer service. Copper Recycling in Houston can be a quick and efficient process when you choose Gulf Coast Scrap Metal, get started by calling us at (713) 868-4111.