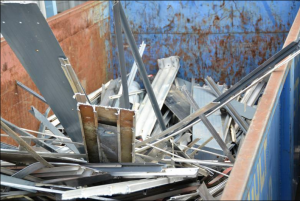 Houston Scrap Metal company Gulf Coast Scrap Metal offers free container service for handling large volumes of scrap. By choosing us as your scrap metal recycling center, you will receive high quality customer service and convenient complimentary services that will make scrap metal recycling a simple task for your business.
The importance of containers
Containers will make the process of recycling more efficient. Our containers help organize and keep your scrap protected during the recycling process. We offer containers of all sizes to fit your needs.
Handling & transportation
We can also provide roll off trucks, cranes, and flat beds, which means we are well equipped to handle your large jobs of commercial or industrial scrap. If you have a large amount of scrap metal that is taking up your work area, do not hesitate to consult us.
Prompt Pay for your scrap
We also offer prompt payment for your scrap. Since 1990, we have built a reputation of providing quick and smooth transactions. Our expert staff will work hard to provide you quick turnaround.
Houston Scrap Metal Recycling in our convenient location
Our recycling center is located on 8770 Hempstead Road, between I-10 and 610 and close to 290.  If you choose to stop by our location, we will facilitate the process by providing free wire stripping, alloy testing, and containers.
Gulf Coast also offers pickup at your workplace!
If you cannot make it to our location, we also offer scrap metal pick up at your jobsite. By consulting with us, your business will have a less cluttered, safer workspace and help become more environmentally friendly. To learn more about Gulf Coast Scrap, visit our website and like us on Facebook for updates. You can also call us at 713-868-4111 for more information.