Ring in the new year with a new source of additional income. Whether you are still recovering from holiday spending, looking to cut business expenses, or save up for something special this year, scrap metal recycling can help you achieve your financial goals. As a Houston scrap recycling facility, Gulf Coast Scrap Metal guarantees you the best price in town for your scrap metal, meaning you get the most cash for your metal scrap. Here are the types of scrap we accept:
Aluminum
Aluminum scrap is some of the most common scrap around. Save you soda and beer cans and you can sell them to us for cash! A lot of door and window frames are made of scrap so take note when anyone in your neighborhood is remodeling.
Brass
Brass makes for extremely lucrative scrap but, unfortunately, it can be rather difficult to find. Brass can be found in ammunition shells and older furniture, so keep a look out next time you go to a firing range or see vintage bed frames on the curb.
Copper
Copper is one of the most valued scrap metals and it is relatively common. Insulated wire almost always has copper wire inside the plastic wrapping. Many quality Houston scrap recycling services, such as Gulf Coast Scrap Metal, will strip your insulated wire for free.
A lot of plumbing and pipeage is also made out of copper, making demolition sites a copper gold mind, so to speak!
Carbide
Carbide is extremely valuable and can be found in machinery. This alloy is used in drill bits, end mills, and inserts. One specific form of this alloy, tungsten carbide, is particularly popular and lucrative.
Iron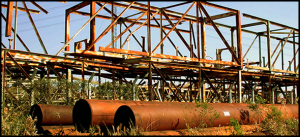 Iron is found in various machines and house decorations. One of the most common places to find iron is in grating, railings, fencing, and piping. Iron can easily be found at any demolition site and can be profitable if sold in bulk.
Nickel Alloy
Nickel alloys are generally used for industrial application. The most profitable and common nickel alloys include Hastelloy, Incoloy, Inconel, and Monel.
Lead
Lead is everywhere, making it a particularly good target for Houston scrap recycling. This metal can be found in TV sets, computers, car batteries, household batteries, and several kitchen appliances.
Steel
Steel is a big money maker, particularly if you have it in bulk. This alloy is especially lucrative for manufacturers, fabricators, and construction companies alike. Generally, stainless steel is priced higher than other forms of steel. Steel can be found in piping, heat exchangers, and other industrial supplies.
Start the new year with a little extra cash in your pocket. Call Gulf Coast Scrap Metal at 713-868-4111 to learn more about our services and for pricing.