Commercial scrap metal recycling at Gulf Coast Scrap Metal, just what are the financial benefits for a Houston business? It's a question we occasionally encounter and while some reasons are obvious, others might surprise you.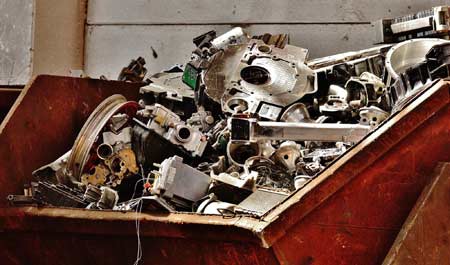 If you're like many business owners, managers and decision makers, regardless of your business age or how long you've been doing it, you've probably wondered if recycling scrap metal is worth the effort so here are a few to consider. They are in no particular order as the importance to you depends upon your business model, current situation, and other factors unique to your business.
Financial benefit of recycling scrap metal in Houston
The financial benefit of recycling scrap metal in Houston is too important to ignore and probably the most tangibly important one. Instead of paying a trash service such as Republic Services or the city of Houston to remove your scrap metal, recycling your commercial scrap metal with Gulf Coast Scrap Metal will actually make you money! You will suddenly turn an expense that lowers your job profits and margins into a profit center. And while the price you earn is contingent in part to the global, national and even local market prices being paid for metals as well as the types of metals you're recycling, anytime you can turn an expense into revenue, it's typically a very good thing.
Additionally, at Gulf Coast we offer an unmatched Best Price Guarantee backed by our commitment to customer service. That means you don't have to invest costly time or resources looking for prices. Plus, we offer special commercial pricing. Call us at 713-868-4111 to learn more about this fantastic pricing, especially if you produce significant regular volumes of acceptable scrap metal.
Another financial benefit of recycling metal at Gulf Coast Scrap Metal is that we make the process as convenient as possible. Our location at 8770 Hempstead Road and our hours of operation (Monday thru Friday 8 a.m. to 5 p.m. and 8 a.m. to noon on Saturdays) means you or your employees will spend less time trying to organize a trip to the recycling center. Less time spent paying to travel means improved profit margins for you.
Lastly, no brief list of the financial benefits for a Houston business recycling at Gulf Coast Scrap Metal would be complete if we didn't mention the wide variety of acceptable metals. We accept aluminum (no cans), copper, steel, iron (think rebar) and other common metals used at a commercial construction site.
With so many acceptable metals; a convenient location and hours; plus our commitment to paying Houston's best prices; and other benefits, when it's time to recycle, turn to us.