Copper recycling in Houston grows as demand for copper rises, triggering higher prices paid for scrap copper. And that's good news if your worksite or business has scrap copper you want to recycle at Gulfcoast Scrap Metal.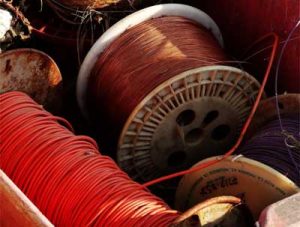 Higher prices paid and more money in your pocket for the copper that you might have considered waste and even paid to throw away, aren't the only benefits of recycling copper wire, copper pipes, copper fittings, scrap copper, etc. Copper, unlike some metals, can be recycled and used virtually limitless times without loss of performance. An electrical wire made from new copper performs the same as wire made using copper that has been recycled dozens and dozens of times. That unlimited recycling potential, seen most commonly with non-ferrous metals such as nickel, lead, aluminum, tin and zinc (click here for a complete list of acceptable metals for recycling) is just one of the reasons demand for your scrap copper is high. Precious metals such as gold, silver and platinum also share those characteristics and are also considered non-ferrous metals but they are not accepted at Gulf Coast Scrap Metal. A complete list of unacceptable materials includes but is not limited to cars, computers, appliances, flammable materials.
According to the Copper Alliance® copper usage is widespread and vital to the economy. 44% of all copper is used for power generation and distribution (copper is the most conductive metal meaning electricity flows through it better than any other metal); 20% in the construction industry; 14% is used to make appliances & electronics; 12% for transportation; and about 10% is used in other applications.
Copper recycling in Houston grows as demand for copper rises and because of that in addition to offering our Best Price Guarantee, we also offer Free wire stripping as well as container services and alloy testing. If you have commercial, construction or industrial copper to recycle, call us at 713-868-4111 or click here for information on our hours, address, and the other services we offer that help make us the best choice for copper recycling in Houston.